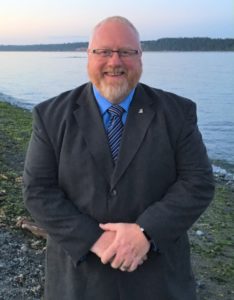 Carl Jensen is a third term Councillor from the District of Central Saanich, home of the World Famous Butchart Gardens! He has served as the Chair of the Peninsula Recreation Commission, Chair of the Central Saanich Cenotaph Committee (which completed a beautiful Cenotaph in 2018) and Chair of the Finance and Administration Committee.
Carl has been an employee with the Provincial Government for the last eleven years and he is currently the Manager, Client Services with the Ministry of Public Safety and Solicitor General. Carl enjoys spending time with his wife and three children and he coaches for local soccer and track and field clubs.  During the spring and summer Carl can be found in his kilt on the Highland Games Circuit in places like Victoria and Campbell River, tossing stones, hammers, weight and cabers.
Carl joined the AVICC Executive in 2014 as a Director at Large and since then he has also held the positions of 2ndVice President, 1stVice President and President. Whether serving on the AVICC Bylaw Review Sub-Committee or leading conference delegates on the Saturday Afternoon Activity Break, Carl brings a level of enthusiasm and passion to his role on the AVICC Executive that is hard to beat! Carl has embraced the "campground philosophy" in all aspects of his life as he strives to leave organizations or settings better than he found them. Carl Jensen is honoured to serve as your Past President for 2020 – 2021 and will utilize his local government experience, enthusiasm and passion to ensure that the Association of Vancouver Island and Coastal Communities continues to fulfill the evolving needs of its membership!
Carl Jensen brings an abundance of energy and enthusiasm to everything he does in his life, Council role, workplace, coaching, social media, and his current role with the AVICC Executive!